ASEAN Competition Policy Advocacy
Policy making
After 3 rounds of ASEAN meetings in 3 different countries over 3 quarters of the year, the eventual marketing collaterals and outreach plan were created for ASEAN offices to implement in their respective countries. The team worked with competition law lawyers and an advisory team in Australia to bring this project to a successful close.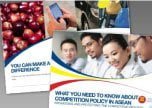 CONTACT US
If you are looking to Engage
New Customers Extra decadently,
contact us today and we'd love to help!
Singapore (Headquarters)
Decadence Design
20 Cecil Street #26-02 PLUS Building
Singapore 049705
T: +65 3163 4653
E: prominence@decadencedesign.com
For career opportunities with us,
send your applications to: acquiantance@encemarketing.com






© Decadence Design Pte Ltd (a specialist marketing company of ENCE Marketing Group Pte Ltd - est 2007). All Rights Reserved.
Privacy Policy | Terms of Use | Graphic Design Company Singapore