Effectively using design to enhance your company's or product's brand image is hard work, but these strategies can help.
Know your audience. Understanding the needs and wants of your audience will help you effectively relate your company identity in a way that resonates with them. If your products are inclined towards being more feminine, a feminine design theme for your company website might work better. If you don't want your products or your company to be perceived as either masculine or feminine, then use gender-neutral fonts, icons and colours.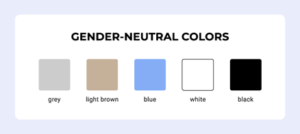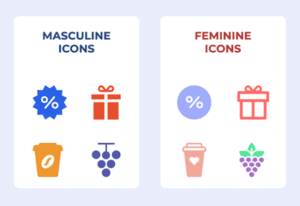 Source: Creatopy
Are your main clients businesses or private consumers? Businesses are more likely to want information in a straightforward, easy-to-digest manner whereas private consumers may be more open to engaging with interactive widgets such as questionnaires. But regardless, having a consistently aesthetic appearance throughout your webpage is still important as it gives an impression of professionalism.
Think 'future'. Will your overall company brand design continue to be relevant as your company grows? A "broader" company brand identity will help you avoid unnecessary rebranding if your company expands into new areas. Try to think in terms of 'values', 'mission' and 'vision' when you are coming up with the brand concept for your company.
What is your company's business strategy when it comes to having different product lines? When it comes to selling specific products, companies play different games. Your company strategy will determine how you would want to name and brand your products/services.
Some large companies like Johnson and Johnson are so diversified that their subsidiaries are no longer recognisable to the common man as being part of the same parent company. This is useful if you are a large firm looking to diversify your business to something unrelated to what your firm is traditionally known for. The motto is 'spread the eggs out into different baskets; they don't have to know'. Doing things under different names will allow an unprofitable product line to die off without bringing down the name of the parent company.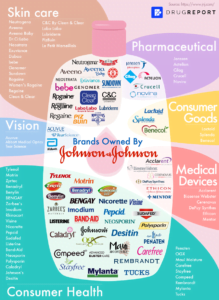 Source: Drug Report
However, if you are a firm looking to increase brand awareness, it is important that clients or potential customers do not see the different product or service lines as separate companies. Use a similar looking logo or design theme on the webpages of each of these product lines and include links that link these pages to one another (think about the Google suite of web apps – Google Chrome, Google Maps, Google Drive – each of these have a different logo yet are clearly 'Google'). The idea here is to create an ecosystem for your customers, an ecosystem where they know where to go to get what they want.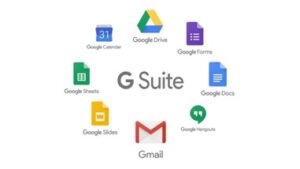 Source: India TV
Play with your platforms. Know the limitations and capabilities each platform offers. Websites offer certain advantages to promote brand awareness by having more space for logos, banners and backgrounds, but need more elements in order not to look empty. Social media sites like Instagram allow you to make frequent short posts without it looking too bare as long as you have good photos and videos. Emails are another important platform which many businesses miss out on. Putting your company logo and links to specific pages around a well-designed infographic with elegant typography is a great way to immerse your customers in an unbroken system of great design and give an impression of professionalism and thoughtfulness.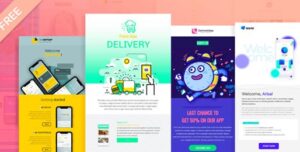 Source: Email Design Blog
Enhancing your company's brand image is a continuous process that requires constant correction and innovation. Making designs that match your company's identity and goals and engage customers is no easy feat but these strategies can help streamline the effort of coming up with branding ideas for your company.