Hill Top Spa with First Floating Glass House
We helped to launch this spa and were successful in getting HSBC to sponsor 2 half-page advertisements in the Life! for the launch. We oversaw the media engagement, graphic design and copywriting for the collaterals announcing the spa's opening.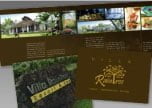 CONTACT US
If you are looking to Engage
New Customers Extra decadently,
contact us today and we'd love to help!
Singapore (Headquarters)
Decadence Design
20 Cecil Street #26-02 PLUS Building
Singapore 049705
T: +65 3163 4653
E: prominence@decadencedesign.com
For career opportunities with us,
send your applications to: acquiantance@encemarketing.com






© Decadence Design Pte Ltd (a specialist marketing company of ENCE Marketing Group Pte Ltd - est 2007). All Rights Reserved.
Privacy Policy | Terms of Use | Graphic Design Company Singapore