Our inboxes have been flooded with more email newsletters of late – not that we're complaining. These are brands that we actually want information from – fitness studios informing us how to book virtual classes now that our weekly HIIT sesh has shifted online; training courses to attend to upgrade ourselves to rise above any pandemic lull; companies sharing their promotions and deals in hopes of retaining customer loyalty during times where pockets are tightened.
All these scenarios point to the fact that brands are connecting even more to their customers online these days with Covid-19 putting up a physical barrier. Customers are also relying on updates via online channels with the ever-evolving situation.
Clear, concise communication will be valued. While social media channels provide immediate and quick info at a glance, email newsletters present a chance for brand storytelling in a really effective way.
Check out some EDM designs that we've been working on for our clients in the past few months!
Loola Eco Resort wanted to spread the word about e-travel to Bali while doing good. People could embark on a virtual trip to the resort and at the same time, e-meet a family who needs some help getting through the Covid-19 period.
While exchanging stories and connecting through culture, people had options such as ensuring that their "adopted" family had enough food and necessities; give the family access to life-saving sanitation; or help restore a family's home.
We focused on including images of families in Bali in snapshot format to make the design look like a photo album. It carries a sense of nostalgia and longing where photos of Bali give readers wanderlust for sure.
Curved lines and waves are incorporated for a more informal and casual feel throughout the newsletter. They also segment the information to make for easier reading.
By paring the info down into how people can help families while travelling virtually at the same time into 3 simple points and using visuals to capture their imagination, we have no doubt that more families in Bali will receive the help they need!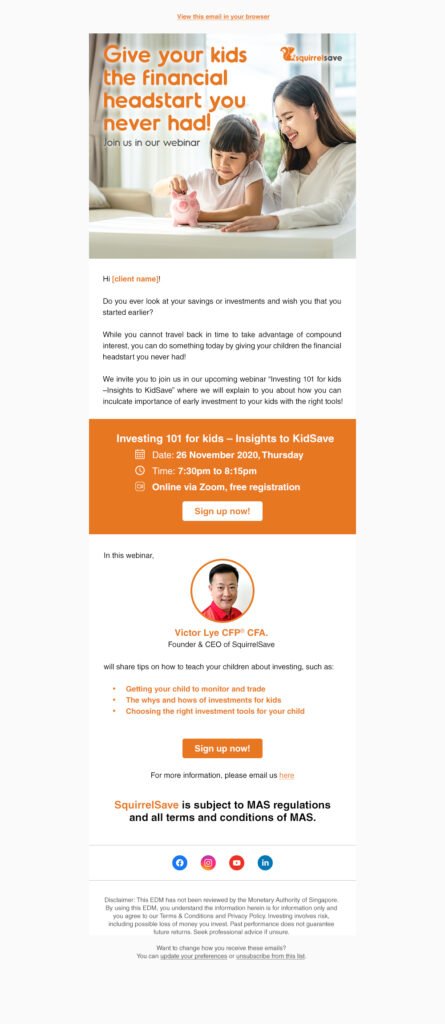 Our client SquirrelSave is the innovative fully AI-driven investment service offered by PIVOT Fintech, a Singapore-based technology company regulated by the Monetary Authority of Singapore.
SquirrelSave is PIVOT's first phase execution to get investing done right.
We have been roped in to help SquirrelSave communicate their model of smart investing via email newsletters for initiatives such as promotions, customer onboarding and even webinars.
We emphasised on simple and clear copy to get the message across and used visuals with humans at the centre for emotional imagery.

Futuristic, global, innovative.
We led the email marketing efforts for Future of Mobility: Seeds of Inspiration for Goldbell's MoveSG Futture of Mobility Innovation Summit.
It brought some of the world's best brains and decision makers to connect, re-imagine and inspire action.
Promising exciting and strategic leadership thoughts on the future of transportation, mobility and smart cities; the summit explored pertinent topics such as flying vehicle, next generation connectivity and new business models, innovation breakthroughs for an inclusive society, autonomous technology, investment trends, and many other insightful topics.
A series of newsletters were designed for various purposes: to market the event; to serve as event reminders; and event for post-event follow-up.
All designs followed a clean and sleek format which remained consistent across all email communications to Goldbell's database.
Want to see more designs? Check out our portfolio here.